For your serious Sunday consideration, from Double X Science physics editor, Matthew Francis.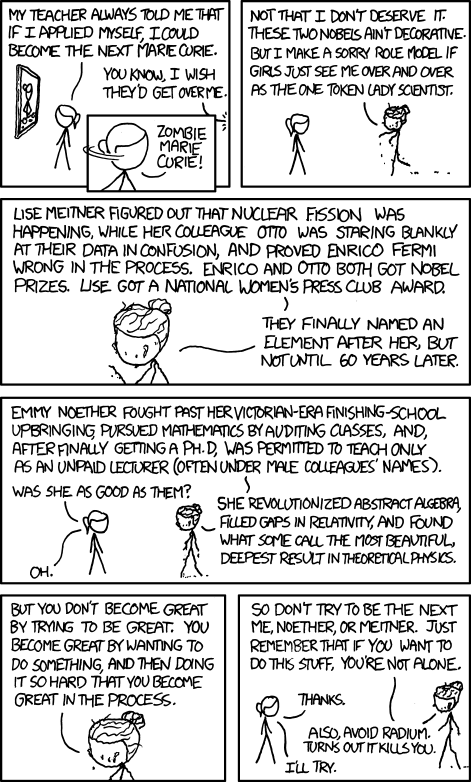 The above courtesy of xkcd, a webcomic of romance,
sarcasm, math, and language.
If you had to name the top scientists of the 20th century, any reasonable list must include Polish-French scientist Marie Sklodowska Curie. She won the Nobel Prize twice, a feat only matched by three others: once in physics (in 1903) for her work in radioactivity, a term she coined; and once in chemistry (in 1911) for her discovery of the two chemical elements radium and polonium. Her first prize was shared with her husband Pierre, himself an excellent physicist. She went on hiking trips with Einstein, who complained that she was too energetic in her walking style, as he preferred to dawdle. She was also the only female participant in the great Solvay Conference of 1927, which included many of the great innovators in modern physics. The element curium (96 on the periodic table) and several research institutes are named for her.

How can you not admire Curie? Let's face it: she kicks all of our butts.
It's easy to think of her as one of the Great Woman Scientists, but without a doubt she was a greater scientist than most of us can ever hope to be, male or female. At the same time, anyone thinking they aren't great because they aren't a Madame Curie should stop worrying. One side effect of tokenism — letting one or two representatives from non-majority groups stand in for their entire group — is that it truly sets standards far higher than are reasonable. Curie was an outstanding scientist by any Continue reading →